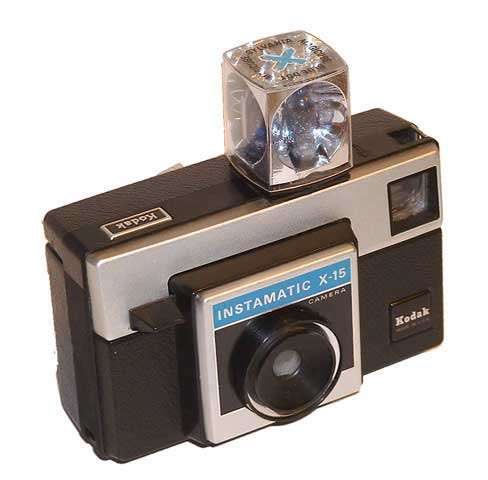 TRAVEL HERE: ACCUSTOMED TO MEDIOCRITY
My parents gave me my first camera, a Kodak Instamatic, for my 16th birthday.  Until then, I'd never been on the business end of a camera and I have the pictures to prove it.  None of them were selfies though, because if you'd have taken a picture at arm's length, all you have gotten was your nose.
Flash!  You're in the Picture
The Kodak Instamatic had a real innovation, the flash cube.  Up until then most amateurs made do with an old fashioned flash attachment, which used a single-use flash bulb.  So a flashcube which attached directly to the camera and was good for four photos was a great innovation.  Eventually, you could buy a flash bar with even more bulbs, but that was later.
The flash, cube, bar or bulb was quite irritating.  It made a loud pop and then a bright white light would blind everyone in your picture, leaving them with spots hampering their vision.  That's the reason why so many people in old pictures have their eyes closed.  As soon as the flash went off the shutter opened, but not before most of us closed our eyes.
You might think with all that noise and brightness, the flashes would light up the pictures, but you'd be wrong.  In the finished photo, the items closest to the camera were too bright and behind that it was all darkness.   The results were pretty pitiful – usually a bunch of over-exposed faces with their eyes closed.  Combined with the expense of the film, it really didn't make a lot of sense to take pictures when a flash was required, so most of us didn't.
Accustomed to Mediocrity 
I'll just say it.  My Instamatic photos weren't all that great, but then again, neither were anyone else's.  Oh, there were serious photographers using 35mm cameras, but they weren't the norm.  A lot of folks were so dissatisfied with the whole snapshot thing they had their photos developed into slides.  Perhaps you have a grandfather or great-grandfather who turned off the lights and bored you to death with their slides.  The processing quality was better, but there were also a lot of bad slides, because your average guy was a pretty bad photographer.
My Instamatic was my only camera for years, but I really only pulled it out when I traveled alone and that was usually for church trips.  The rest of the time my dad was in charge of family photography.  For years he used a Brownie Hawkeye, which was actually a pretty good camera.  Then he moved into Polaroid, which was definitely a step in the wrong direction.
I guess I'm telling you all of this as a form of apology for all the bad pictures I took, but they didn't bother me, because everyone else's pictures were almost as bad as mine.  The mediocrity of the pictures actually added to the fun of photography.  Few of us really bothered with setting up a shot properly.  You just whipped your camera up to your face and snapped.  Sometimes you would get lucky.  Sometimes you wouldn't.
Lucky or not, at the time the picture was taken, you took it and forgot it, because you wouldn't see it until you developed the film.  There was no stopping the action to oooh and aaah or moan and groan.  You didn't have to share it on Instagram, Facebook or Twitter.  You didn't have to text it to anyone.
What you did have to do was carry film with you and a few flashes, just in case.  This was perhaps the worst part of analog photography.  You could almost guarantee that should a really unique photo opportunity arise, you would usually miss it, because you just ran out of film.  Now all you have to do is be sure your phone is charged.
Well, I have run out of words for today, so we'll move on to the introduction of 35mm to my life. Come back next week and we'll chat some more about the good old days before digital photography.