TRAVEL TALK: TURN IT UP! THAT'S MY SONG!
The Trip That Didn't Happen
Some people say they found themselves when they went away to college.  I think I always knew who I was, but I did try out a few other personalities.  One of them showed up the day I called Mom to tell her I was going to New Orleans with some friends.  Mom threw a conniption fit, but I held on to my guns. I was going to New Orleans and since she wasn't in Nacogdoches, there wasn't much she could do about it.
Only I didn't go.  I can't remember what kind of teen-aged drama played out to keep me in my dorm room, but I do remember pouting all weekend.  I also remember wanting to call Mom and complain to her, but I couldn't because I was punishing her.  Aren't we silly sometimes?
Were I a psychologist, I would probably expound on why Mom chose Louisana that year for the summer vacation, but I'm just a travel blogger, so I'll leave it to your speculation.  Choosing hot, humid August for traveling probably had a lot to do with my summer job.  The big news was that Aunt Edie was going with us.
The Trip That Did Happen
Poor Aunt Edie was stuck in the back seat with the two Kool-Aid lovers.  We didn't actually love Kool-aid, but in those days, Bill Cosby was the bomb and my sister adored him.  She played the LP "To Russell My Brother Whom I Slept With" so many times, the whole family had it memorized.  Mom often adopted the Kool-Aid moniker to refer to Susan and I.
Aunt Edie sat in the middle, straddling the hump, because if we'd had to determine which one of us would sit next to her, there would have been all out war.  We'd grown up enough for Mom to abandon I Spy, Twenty Questions, Travel Bingo Cards and personalized grab bags, but not enough for Aunt Edie to have a relaxing ride in the back seat.
The Radio
Eight track tapes were all the rage, but having a player in your car cost extra, so our Chevrolet didn't have one.  Dad was an AM radio aficionado anyway – because that's where the sports were.  Because of Dad, I have a fine ear for sportscasting.  I can tell which sport is being broadcast, just from the cadence of the sportscaster's voice, even when I can't hear individual words.
Radio is a bit of an adventure on the road, because you have to take what's available, especially when all you have is an AM radio.  When Dad could find baseball or news, that's what we'd listen to, because he was in charge.  He also preferred country and western music over rock and roll, so if he could tune in Whispering Bill Anderson or Charlie Pride, then that's what we'd listen to.
Thankfully, we'd also go through places where all we could pick up was Top 40 Hits.  That's when Susan and I would perk up and pay attention.  Even though I remember the trip as a series of newscasts and sportscasts, highlighted with a baseball games, according to Aunt Edie, the whole trip was one great big rock and roll experience.  She claimed each time a new song came on the radio, either Susan or I would shout out, "That's my song!  Turn it up!" and then we'd both bounce to the rhythm of the music.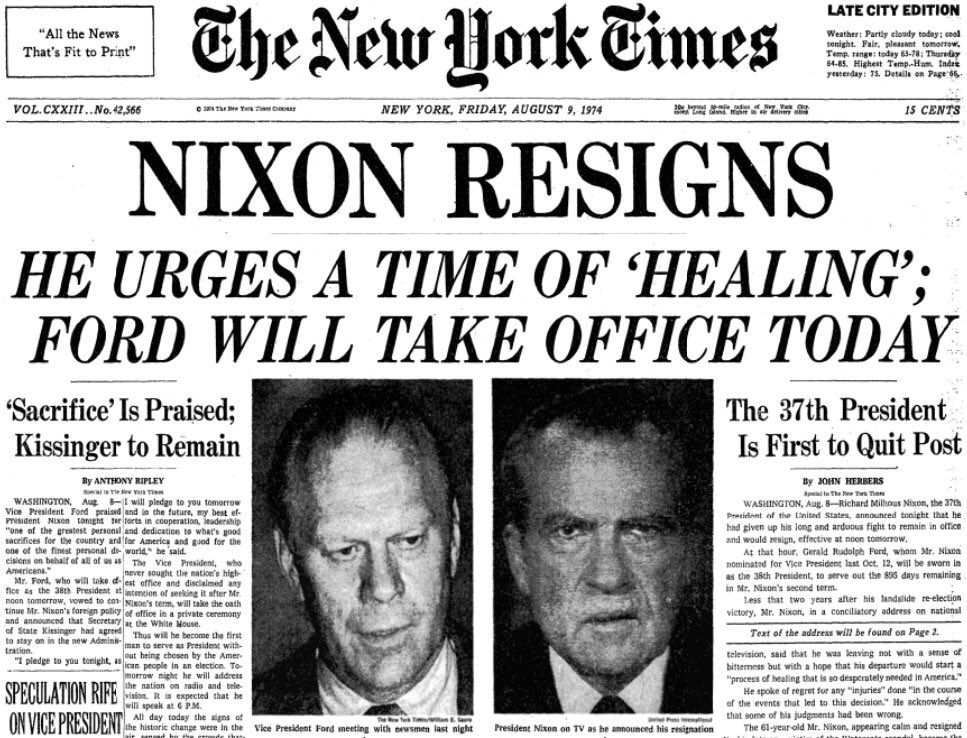 Nixon Resigns
There was something else happening on the radio on that trip, though I didn't appreciate the significance of it at the time.  Much like the Blue Dress incident of Clinton's day and our current fascination with collusion, our nation was preoccupied with the matter of Watergate.  The news was full of speculation, but late in the afternoon, the newscast was so dire that my dad pulled off the road and into a parking lot.  We listened as it was announced Nixon had called a news conference that evening and word was he would resign.  My dad cried.  And that's not something that happened very often.  He forecast our nation would be forever changed by this and he was right.
Looking back from this day to that, it seems as if our nation has been constantly embroiled in some expensive Congressional hearing – Watergate, Iran Contra, Monica Lewinsky, Fast and Furious, Benghazi and now Russian Collusion, among so many others.  How much money has all this investigating cost our nation and what good has it really done for anyone?  It's all political one-up-man-ship.  What if instead it had been spent on feeding the poor, our failing infrastructure, education, improving our health system?  Anything but politicians trying to oust their opponents.
I usually avoid political discussions here on my blog, but that day began a new era in American politics.  The presidency was vulnerable and you didn't have to win an election to unseat the Leader of the Free World.  It hadn't been the ill-advised break-in which had led to the popular president's demise.  It had been the cover-up.  It had also been technology.  He had tapes and it was his own tapes which had undermined his term.  Today's scandals are all about technology.  We don't question whether the Russians used social media to influence the election, but the Mueller investigation is desperately looking for the text or e-mail that proves our president colluded with the Russians, even though collusion is not even a crime.
I'll climb off my soap box.  Susan and I didn't grasp the magnitude of what we'd heard.  Our lives had been influenced by other milestones – the assassination of JFK, Viet Nam, man walking on the moon, Kent State and LBJ refusing to run for re-election.  These seems like momentous events.  Watergate seemed like much ado about nothing.  For now, we're almost to Evangeline County.  Come back next week for some crawfish.